East Africa
Congo-Kinshasa: New Massacre in East

October 18, 2014

[Deutsche Welle]Several people have been killed in a new attack in the troubled east of the Democratic Republic of Congo, just days after a similar massacre. Victims of the attack reportedly include a soldier.

Tanzania: Donors Freeze Aid

October 18, 2014

[Deutsche Welle]Foreign donors are withholding aid to Tanzania following an alleged corruption case in which officials are accused of transferring $124 million (97 million euro) from the central bank to a private energy company.

Sudan: '21 Sudan Troops Killed' - Rebels

October 18, 2014

[Radio Dabanga]Rokoro -Rebel forces in Rokoro, Central Darfur, announced the killing of several government troops and pro-government militiamen during their attack on Thursday evening. On Friday, the Sudanese Air Force bombed the area in East Jebel Marra.

Ethiopia: How to Make a Green Economy Prosper

October 18, 2014

[IPS]Addis Ababa -Ethiopia has experienced its fair share of environmental damage and degradation but nowadays it is increasingly setting an example on how to combat climate change while also achieving economic growth.

Tanzania: Burundi Refugees Make History

October 17, 2014

[UNHCR]Geneva -The UN refugee agency has welcomed Tanzania's decision to grant citizenship to 162,156 former Burundian refugees, marking the largest group in UNHCR's history to which naturalisation has been offered by a country of first asylum as a solution to decades in exile.

Rwanda: Kagame Accuses BBC of Genocide Denial

October 17, 2014

[Hirondelle]Arusha -In Kigali, Rwandan President Paul Kagame accused the BBC of denying the 1994 genocide.

South Sudan: Rebel Leader to Meet Kenyatta

October 17, 2014

[Sudan Tribune]Nairobi -Former South Sudan's vice-president, Riek Machar, who leads the opposition faction of the Sudan Peoples' Liberation Movement (SPLM-in-Opposition) is in the Kenyan capital, Nairobi, to meet president Uhuru Kenyatta.

Sudan: Children Killed in Market Bombing

October 17, 2014

[Nuba Reports]Five children were killed, and two injured when an Antonov bombed a crowded market and a nearby home this morning, marking the start of fighting season in the Nuba Mountains.

Egypt: Irrigation Minister Opens Ethiopia Dam Tripartite Committee Meeting

October 17, 2014

[Egypt Online]Irrigation Minister Hossam Moghazi opened on Thursday the second meeting of the tripartite committee between Ethiopia, Egypt, and Sudan on Ethiopia's controversial Renaissance Dam.

Egypt: Sisi Meets Ethiopia, Sudan, Egypt Ministers of Irrigation

October 17, 2014

[Egypt Online]President Abdel Fattah El Sisi held a meeting Thursday with ministers of irrigation of Ethiopia, Sudan and Egypt on the Renaissance Dam.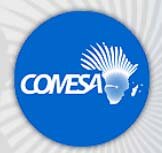 Source: http://www.comesa.int
News from Southern Africa
Annual Nelson Mandela Children's Parliament calls for children's ombudsman

October 10, 2014

Some 108 children got their chance to speak truth to power as members of the Nelson Mandela Children's Parliament this week, calling for stricter policing of child right's violations.

Youth employment a priority for SA, Nene tells IMF

October 10, 2014

Tackling youth unemployment is top of the agenda for the South African government as it tries to eradicate the triple challenges of unemployment, poverty and inequality, said Minister of Finance Nhlanhla Nene at an IMF discussion session

SA's FirstRand spreads its investment footprint in Africa

October 9, 2014

Africa's current economic growth is providing impetus for South African financial services provider FirstRand to invest in real property across the continent.

It's a wrap for the first Cape Town Fringe

October 9, 2014

The organisers of the first Cape Town Fringe festival say the attendance figures for the 11-day festival of theatre, music and dance have set them on the same growth path as other festivals they've studied - particularly their World Fringe Alliance partner festivals in Amsterdam, Prague and New York.

UN peace role for South African Nicholas "Fink' Haysom

October 8, 2014

South African Nicholas "Fink' Haysom brings plenty of conflict resolution experience to his new job as chief of UN Assistance Mission in Afghanistan. But challenges lie ahead, including brokering peace between the new government and the Taliban.

Dube TradePort key to attracting foreign investment in SA

October 8, 2014

The designation of the Durban-based Dube TradePort as an industrial development zone opens up opportunities for the project to target local and foreign investment.

Crime Stoppers conference kicks off in Cape Town, South Africa

October 8, 2014

Tackling international cybercrime, human trafficking and gender-based violence the 35th annual Crime Stoppers International Conference helps law enforcement share crime-fighting tactics and tips.

Three African currencies to trade on SA exchange

October 7, 2014

The Johannesburg Stock Exchange, the largest and most liquid on the continent, has listed three African currencies on a new foreign exchange futures platform on Friday. The JSE said this would offer investors exposure to African economies in a relatively risk-free manner.

South Africa's Standard Bank "Most Innovative Investment Bank in Africa'

October 6, 2014

South Africa's banking sector compares favourably with those of industrialised nations. It is also leaping ahead on the continent, playing a role in key deals in its mining and metals, oil and gas, and power and infrastructure sectors.

Lesetja Kganyago appointed new SA Reserve Bank governor

October 6, 2014

The current deputy governor of the South African Reserve Bank (Sarb), Lesetja Kganyago, will take over from Gill Marcus as governor of the bank as from 9 November 2014.